OUR FREE BOOK OF THE MONTH IN JANUARY:
Free D L Moody book "Prevailing Prayer"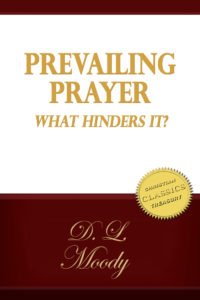 When you sign up to receive our newsletters (see sign-up form on the right), not only do you get an awesome free sign-up gift, but you'll also receive an email each month with deals and a free Christian book of the month.  Our book in January 2017 is "Prevailing Prayer: What Hinders it?" by Dwight Moody.
Scroll down for more great deals on D. L. Moody books online!
---
Below are most of D L Moody's books and where you can find them online.  Check the links for great deals on D. L. Moody's books in paperback, Kindle, and iBook format!  Many RARE D. L. Moody's books are now available for the first time in years!
TITLE:
THE WORKS OF D.L. Moody  (25-in-1)


AUTHOR:
D. L. Moody

CATEGORY:
CHRISTIAN LIVING, PRAYER

Formats Available:

 Kindle eBook

 Kobo/Sony eBook
---
SAVE OVER $100 when you buy the D.L. Moody Library! (Compared to the Logos Bundle)
D. L. Moody (1837-1899) was probably the most well-known and respected evangelist in the late 1800's. He preached to thousands on both sides of the Atlantic, started schools and established what is now Moody Bible Institute.
This collection contains TWENTY-FIVE works – his life and most famous books, packed full of Scripture, passion and timeless truth:
Why God Used D. L. Moody (7 chapters)
The Life and Work of Dwight L. Moody (34 chapters)
The Overcoming Life (9 chapters)
Secret Power in Christian Life and Service (5 chapters)
Men of the Bible (7 chapters)
The Way to God and How to Find it (9 chapters)
Heaven – Where it is and how to Get There (9 chapters)
Prevailing Prayer – What Hinders It? (11 chapters)
Sowing and Reaping (8 chapters)
Weighed and Wanting – Addresses on the Ten Commandments (13 chapters)
To the Work! To the Work! (9 chapters)
Sovereign Grace (11 chapters)
Pleasure and Profit in Bible Study (16 chapters)
Wondrous Love and other Gospel Addresses (10 chapters)
That Gospel Sermon on the Blessed Hope
Thoughts for the Quiet Hour (365 – daily readings)
Moody's Latest Sermons (7 sermons)
Where Art Thou? (12 select sermons)
Thou Fool! (and other sermons)
The Way Home (and other sermons)
Bible Characters (11 chapters)
Life Words
Moody's Anecdotes and Illustrations
Moody's Stories
The Home Work of D. L. Moody (9 chapters)
---
FIND VINTAGE DWIGHT MOODY BOOKS ON EBAY!
Just click the picture below

If you're looking for D.L. Moody book deals on eBay, just click the picture above or this link. It will take you to a list of some vintage books by Dwight L. Moody for sale on eBay!
---
D L Moody books sermons online pdf
Free D L Moody book