March – Free book Absolute Surrender Andrew Murray
Free book Absolute Surrender Andrew Murray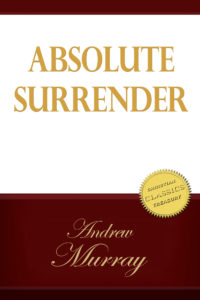 When you sign up to receive our newsletters (see sign-up form on the right), not only do you get an awesome free sign-up gift, but you'll also receive an email each month with deals and a free Christian book of the month.  Our book in March 2017 is "Absolute Surrender" by Andrew Murray.
Don't miss out on any more free books – sign up today!
Free Book Absolute Surrender Andrew Murray
---
TITLE:
THE WORKS OF ANDREW MURRAY  (50-in-1)


AUTHOR:
Andrew Murray

CATEGORY:
CHRISTIAN LIVING, PRAYER, REVIVAL

Formats Available:

 Kindle eBook

 Kobo/Sony eBook
Unlike other collections, this includes the full text of 50 works of Andrew Murray. This is a very LARGE collection, carefully edited and put together and includes an active Table of Contents, as well as a Quick Table of Contents at the beginning for easy navigation.
NOTE: Below are all the works as they appear in this collection, in alphabetical order (with number of chapters in brackets). Since some works have been published with different titles, these have been included when known. A double-asterisk (**) denotes a rare or previously out-of-print work.
May you be blessed as you read the writings of this great man of God!
——————
BIOGRAPHY:
1. Official Biography of Andrew Murray [Illustrated] (23)
        [aka: The Life of Andrew Murray of South Africa]
BOOKS:
2. Abide in Christ (31)
3. Absolute Surrender (9)
4. Be Perfect (31)
5. Children for Christ, The (52)
6. Deeper Christian Life, The (8)
7. Divine Healing (32)
8. Fruit of the Vine (6)
9. Full Blessing of Pentecost, The (12)
        [aka: Experiencing the Holy Spirit; OR In Search of Spiritual Excellence]
10. Have Mercy Upon Me (31)
11. Holiest of All, The (130)
12. Holy in Christ (31)
13. Humility (12)
14. Inner Chamber and the Inner Life (36) **
15. Key to the Missionary Problem (10)
16. Let Us Draw Nigh (12)
17. Like Christ (32)
18. Lord's Table: Right Observance of Lord's Supper (24)
19. Masters Indwelling, The (13)
20. Ministry of Intercession, The (15)
21. New Life: Words for Young Disciples (52)
22. Out of His Fulness (15) **
23. Power of the Blood of Jesus, The (10)
24. Pray Without Ceasing (31)
25. Prayer Life, The (17)
26. School of Obedience (8)
27. Secret of the Cross (31)
28. Spirit of Christ (31)
29. Spiritual Life, The (16) **
30. State of the Church, The (20) **
31. Supreme Need, The (8) **
32. Thy Will Be Done (31)
33. True Vine, The (31)
34. Two Covenants, The (18)
35. Waiting on God! (31)
36. Why Do You Not Believe? (31)
37. With Christ in the School of Prayer (31)
38. Working for God! (31)
PAMPHLETS
39. Cross of Christ (5) **
40. Helps to Intercession (31)
41. In My Name (3) **
42. Jesus Himself (2)
43. Lord Teach Us To Pray (4)
44. Love Made Perfect (2) **
45. Money (4)
46. Power of Persevering Prayer (1)
47. Prophet Priest, The (4) **
48. Within, or the Kingdom of God is Within You (4)
EXTRACTS OF WILLIAM LAW – WITH NOTES BY ANDREW MURRAY
49. Dying to Self (31)
50. Power of the Spirit
---
Andrew Murray's classic "WITH CHRIST IN THE SCHOOL OF PRAYER" is included in:
TITLE:
7 CLASSICS ON PRAYER


AUTHOR:
Bounds, Moody, Muller, Guyon, Goforth, Torrey, Murray

CATEGORY:
PRAYER

Formats Available:

 Kindle eBook

 Kobo/Sony eBook
This fantastic compilation brings you 7 Christian classics on PRAYER. Ever struggled with how to pray, what to pray for, or just needed encouragement to keep praying? These powerful writings will stir your heart and strengthen your faith, helping you grow in communion with God.
These 7 have been chosen because they are practical, Biblical and have helped thousands throughout the centuries to grow in intimacy with God and in power in their prayer lives. Note: these aren't just excerpts, these are the ENTIRE book of each classic.
SEVEN CLASSICS ON PRAYER:
• How To Pray – by R. A. Torrey [12 chapters]
• With Christ in the School of Prayer – by Andrew Murray [32 chapters]
• Prevailing Prayer – by D. L. Moody [11 chapters]
• How I Know God Answers Prayer – by Rosalind Goforth [10 chapters]
• Answers to Prayer – from George Muller's Narratives [6 chapters]
• Power Through Prayer – by E. M. Bounds [20 chapters]
• A Short and Easy Method of Prayer – by Madame Jeanne Guyon [24 chapters]
---
Andrew Murray's book "THE SPIRIT OF CHRIST" also included in:
TITLE:
5 GREAT CLASSICS ON THE HOLY SPIRIT  (5-in-1)


AUTHOR:
Edwards, Murray, Torrey, Brengle, Bonar, Simpson

CATEGORY:
HOLY SPIRIT

Formats Available:

 Kindle eBook

 Kobo/Sony eBook
This fantastic compilation brings you 5 of the greatest Christian classics on the Holy Spirit. Do you want to understand what the Scripture teaches about the Holy Spirit and get to know Him better in your own life? Are you interested in how the Holy Spirit has worked in revivals?
If so, then this collection is for you! Each book in this volume contains the full text of powerful and life-changing writings by men of God who saw the Holy Spirit work powerfully in their ministries. Their writings are practical, Biblical and have helped thousands throughout the centuries to know the Holy Spirit more.
5 GREAT CLASSICS ON THE HOLY SPIRIT contains:
• Distinguishing Marks of a Work of the Spirit of God – by Jonathan Edwards (1741).
• The Spirit of Christ – by Andrew Murray (1888) [31 chapters]
• Walking in the Spirit – by A. B. Simpson (1890′s) [14 chapters]
• When the Holy Ghost is Come – by Samuel Logan Brengle (1909) [23 chapters]
• The Person and Work of the Holy Spirit – by R. A. Torrey (1910) [22 chapters]