February Free Book – Spurgeon on the Song of Solomon
Free C H Spurgeon Book Song of Solomon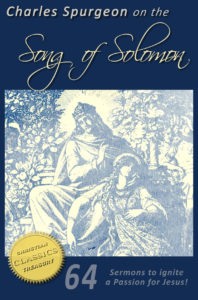 When you sign up to receive our newsletters (see sign-up form on the right), not only do you get an awesome free sign-up gift, but you'll also receive an email each month with deals and a free Christian book of the month.  Our book in February 2017 is "Charles Spurgeon on the Song of Solomon" – 64 sermons to ignite a passion for Jesus!
Free C H Spurgeon Book
---
ALSO AVAILABLE BY SPURGEON:
TITLE:
LECTURES TO MY STUDENTS  (Vol 1-4)


AUTHOR:
Charles Spurgeon

CATEGORY:
MINISTRY, PREACHING

Formats Available:

 Kindle eBook

 Kobo/Sony eBook
Charles Spurgeon (1834-1892) was a British minister known as the "Prince of Preacher's" whose writings are considered classics and are still in high-demand today. He preached to over 10 million people in his lifetime and published thousands of sermons, besides starting a College for Pastors as well as orphanages for boys and girls.
This edition includes:
• The original 28 chapters from his Lectures, Volumes 1-3.
* Now also includes chapters 29 and 30 from Vol 4, with Spurgeon's thoughts on Commentaries!
• Over 30 illustrations of Spurgeon, the Pastors' College, and Spurgeon's preaching ministry!
• This edition is fully optimized for your Kindle for easy navigation and is completely searchable.
"Lectures to my Students" were talks given to pastors studying in his College and are full of his passion, wit and wisdom. It has been said that these Lectures were possibly Spurgeon's "greatest single contribution to the Christian world. There is more practical wisdom, common sense and sage advice packed within these pages than with any other book of similar size or content."
---
Also by SPURGEON:
This fantastic volume contains 40 of Spurgeon's most powerful sermons on Prayer, including:
• A Heavenly Pattern for our Earthly Life (The Lord's Prayer)
• Behold He Prays!
• Christ's Prayer for His People
• The Dawn of Revival (Prayer Answered Speedily)
• Effective Prayer
• Essential Points in Prayer
• The Golden Key of Prayer
• The Power of Prayer and Praise
• The Prayer of Jabez
• Praying in the Holy Spirit…and MUCH, MUCH MORE!!!
---
TITLE:
EVANGELISM AND THE SOUL WINNER (7-in-1) 


(Featuring "The Soul Winner" by Charles Spurgeon)




AUTHOR:
Various

CATEGORY:
EVANGELISM, MINISTRY, PREACHING

Formats Available:

 Kindle eBook

Kobo/Sony eBook
 EVANGELISM AND THE SOUL WINNER is a powerful collection of some of the greatest classic writings on evangelism, witnessing and seeking the lost. Be challenged and inspired by Charles Spurgeon, D. L. Moody, R. A. Torrey, Samuel Brengle and others who have experienced revival and moves of God first-hand!
* This is not a cheap scanned copy, but a fully searchable and formatted collection!
Includes the FULL text of:
• WORDS TO WINNERS OF SOULS – by Horatius Bonar (1877). 5 Chapters.
• TO THE WORK! TO THE WORK! – by D. L. Moody (1884). 9 Chapters.
• HOW TO BRING MEN TO CHRIST – by R. A. Torrey (1893). 13 Chapters.
• THE SOUL WINNER – by Charles Spurgeon (1895). 15 Chapters.
• THE SOUL WINNER'S SECRET – by Samuel Brengle (1900). 19 Chapters.
• EVANGELISM – by G. Campbell Morgan (1904). 5 Chapters.
• THE PASSION FOR SOULS – by J. H. Jowett (1905). 7 Chapters.
Free C H Spurgeon Book