Welcome to Classic Christian eBooks!
Here you'll find hundreds of classic ebooks to strengthen your faith, by beloved authors such as Andrew Murray, Amy Carmichael, George Muller, C. H. Spurgeon and many more!
Browse our books by AUTHOR, CATEGORY,  or check out our TOP SELLERS!
We also have a few PRINT books available if that's what you'd prefer.
All of these are high-quality books for rock-bottom prices!  Try one today and may your faith be strengthened and encouraged through these timeless gems!
---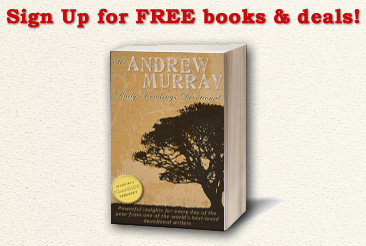 Sign up here or on the sidebar and get your FREE book today!  You'll also receive our monthly newsletter so you can be the first to know about important offers, sales and deals…and more free books!  As a thank you for signing up, we'll send you the 5-star rated "Daily Devotional" by Andrew Murray!
---
LATEST RELEASES:
25 CLASSIC CHRISTIAN BIOGRAPHIES (25-in-1)!
25 Classic Christian Biographies on Amazon
These 25 Classic Christian Biographies contain the life stories of men of God who have challenged and captivated countless Christians through the centuries. From Saint Augustine to Saint Francis, Calvin to Wesley, Charles Spurgeon to Hudson Taylor – history has been shaped, God has been glorified, and Christians have been inspired through their lives and legacy. For full details go over to Amazon, or check this blog post here.

---
OUR BEST-SELLING BOOKS:
THE LIFE AND WORKS OF ANDREW MURRAY (50-in-1)
THE WORKS OF G. CAMPBELL MORGAN, Vol 1 (25-in-1)
Kindle eBook
iBook


Kobo/Sony eBook
THE WORKS OF F. B. MEYER, Vol 1 (25-in-1)
7 CLASSIC MISSIONARY BIOGRAPHIES
Kindle eBook

7 CLASSICS ON PRAYER
ALFRED EDERSHEIM COLLECTION
Kindle eBook

---
Classic Christian eBooks exists to bring you the best of the classics at an affordable price!  Our mission is to bring you Great Classics at Great Prices!


Unlike some of those "free Christian books" you can find online, our Classic Christian eBooks are superbly formatted and contain linked Table-of-Contents making it easy to navigate on your eReader.  These are not cheap scans, but are edited and fully searchable texts.


Like you, we appreciate not only savings, but quality and so we aim to bring you the best in spiritually uplifting reading from some of the great's in Christian history.  Check out the many books we have by Charles Spurgeon, George Muller, Amy Carmichael, Charles Finney, D. L. Moody, John Wesley and many, many more!  For a fraction of the cost of regular classic Christian books, you get a slew of great reading that will both edify and challenge you in your spiritual walk!


---
---